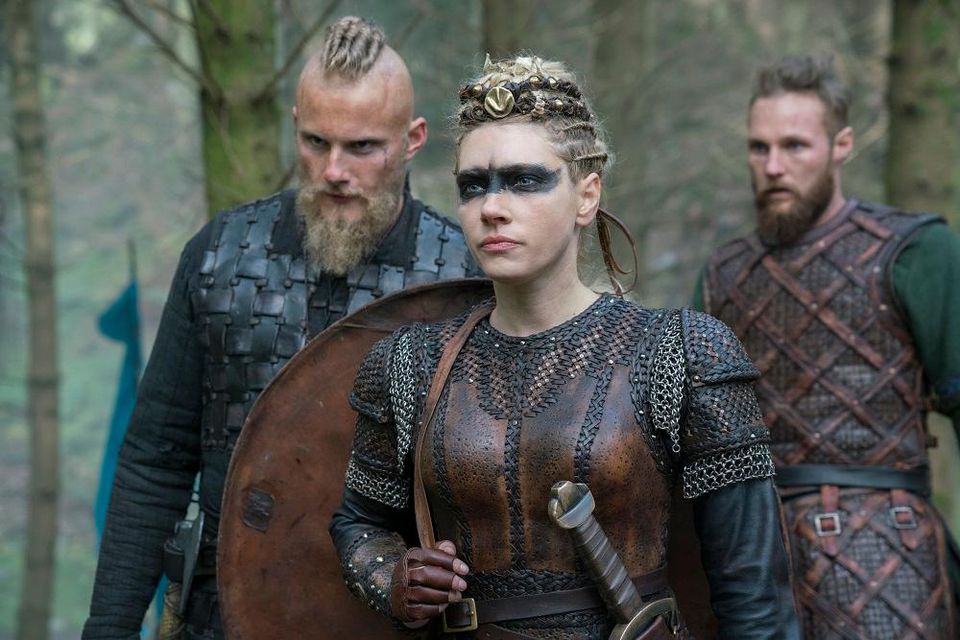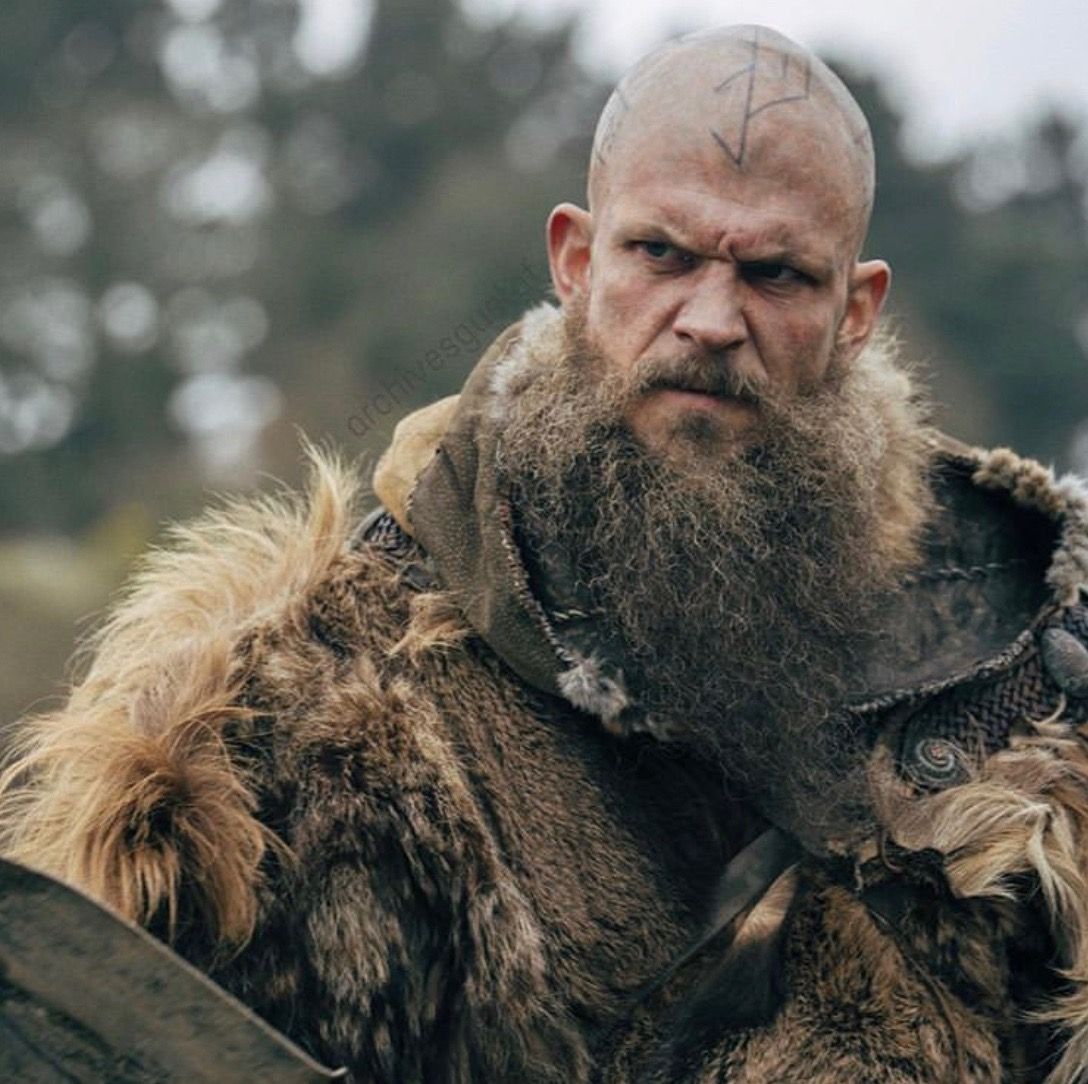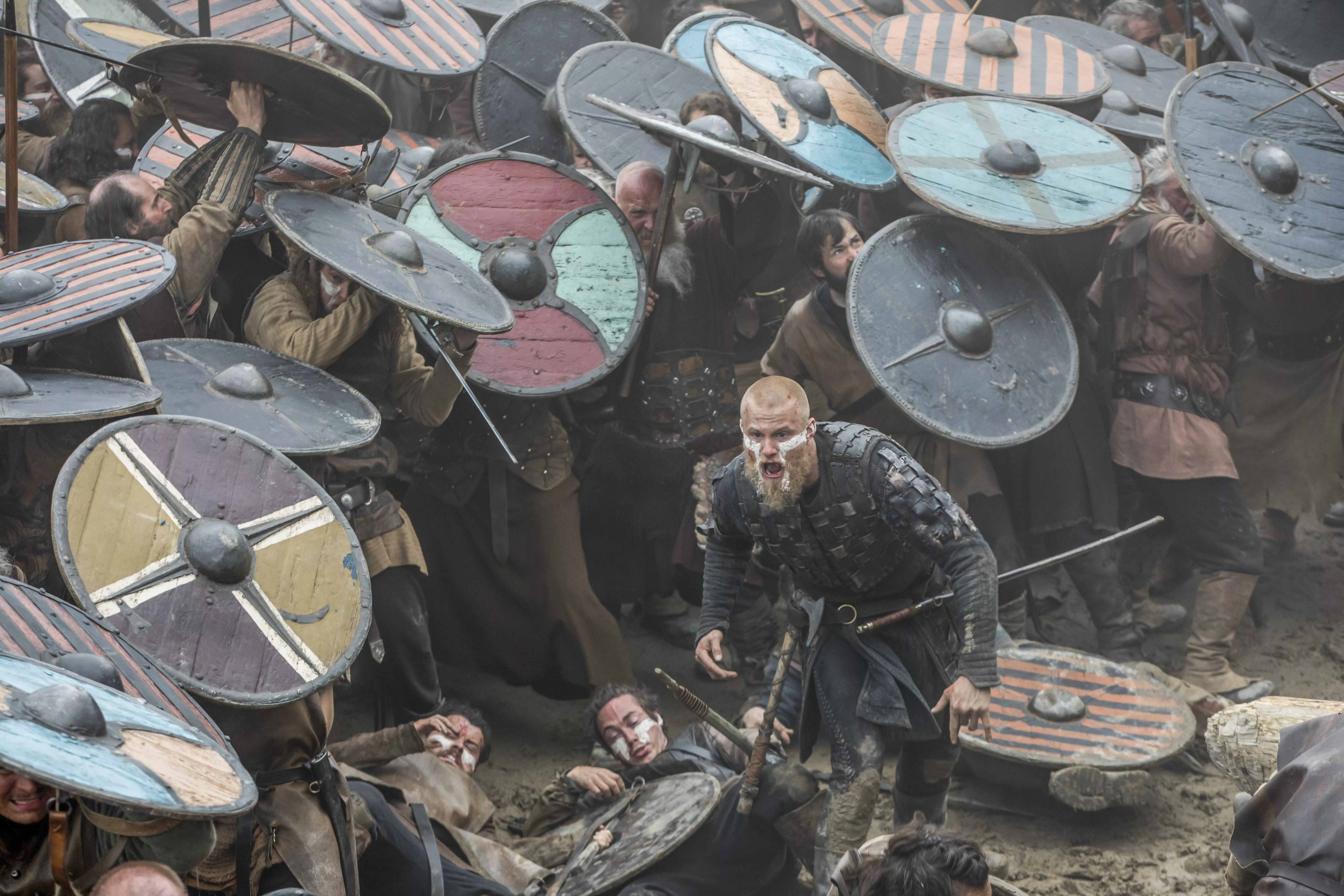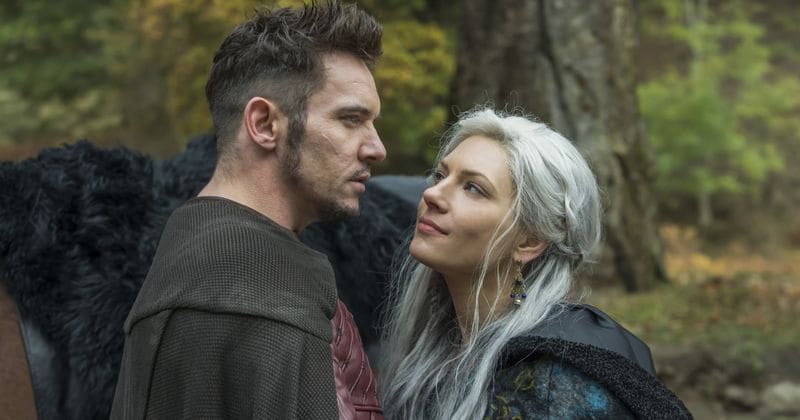 No. of episode
Title
Original air date
1
"The Fisher King"
November 28, 2017
After Sigurd's death, Ubbe, Ivar and Hvitserk rule jointly over their newly acquired land in East Anglia. Bjorn and Halfdan sail back to the Mediterranean Sea; Floki sets sail for the unknown; King Harald heads back to Kattegat. Meanwhile, Bishop Heahmund arrives at King Ecbert's villa, celebrates the late sovereign's funeral, and begins rebuilding the place. Aethelwulf and Judith are in exile with princes Aethelred and Alfred, the latter struck by sickness. Ivar persuades his brothers to go north and conquer the city of York. In Kattegat, Lagertha suggests that Harald was expecting to find Egil in her place, so he could take over the kingdom. Harald confesses and dares that she kill him.
No. of episode
Title
Original air date
2
"The Departed"
November 29, 2017
After days at sea, Floki finally reaches land, which he believes to be Asgard, the land of the Gods. In Kattegat, Harald is held prisoner by Lagertha. He proposes an alliance with her through marriage, but she refuses and rapes him. Harald's men free him and capture Astrid; they leave Kattegat and Harald offers Astrid the same proposition that he had to Lagertha. Prince Alfred has a vision in which Athelstan tells him the Vikings are in York, so King Aethelwulf joins forces with Bishop Heahmund. In York, Ivar shows his brothers that he can now stand and walk on his own feet with the help of new leg braces and a crutch.
No. of episode
Title
Original air date
3
"Homeland""
December 6, 2017
Floki explores the new land he has encountered. In Norway, Astrid tempts Harald with the possibility of her alliance, whilst resisting his sexual advances. In the Mediterranean, Sindric advises Bjorn to arrive as a trader, with a few ships, and not as a warrior in command of an entire fleet. In England, the Saxons led by King Aethelwulf and Bishop Heahmund attack York, but are led into a trap. Aethelwulf's son Aethelred is wounded and the Saxons are forced to retreat. Ubbe and Hvitserk propose a peace, but Ivar wants to continue the war. Aethelwulf seemingly accepts their offer, but Heahmund arranges to have the brothers humiliated. With Ubbe having lost face, Ivar secures his position as the leader of the Great Army. Ubbe and Hvitserk prepare to leave for Kattegat with their few followers; however, at the last minute, Hvitserk defects to join Ivar.
No. of episode
Title
Original air date
4
"The Plan"
December 13, 2017
Bjorn reaches Sicily, and agrees to act as bodyguard to its commander Euphemius. However, Sindric discovers that Euphemius is merely a client of the Arab Emir Ziyadat Allah, and Bjorn asks to visit him. Euphemius refuses but is persuaded to agree by Kassia, a famous nun, and they set sail for Kairouan in Africa. Meanwhile, in Kattegat, Ubbe agrees to ally with Lagertha against both Ivar and Harald. In Vestfold, Astrid finally agrees to Harald's proposal, and they are married. Floki asks the gods for permission to bring settlers to his new land and prepares to sail. Outside York, the Saxons are joined by Judith's cousin Mannel and his men from Northumbria. Heahmund persuades Aethelwulf to lay siege, and attack only when the Vikings are starving. Inside York, the Vikings pretend to burn bodies, and Ivar humiliates Hvitserk by not sharing his plan. Aethelwulf and Heahmund see the smoke from the fires and enter the apparently deserted city; Heahmund is concerned that there are rats above ground.
No. of episode
Title
Original air date
5
"The Prisoner"
December 20, 2017
Ragnar, wounded and near death, has a dream of walking towards the open gates of Valhalla, only to see them close before him. Aslaug asks the Seer if a woman would rule Kattegat, should Ragnar die. Bjorn has Floki arrested for killing Athelstan. When Ragnar awakens, he chastises Bjorn for imprisoning his friend. Bjorn wants to prove himself by surviving deep in the wilderness. Aslaug procures a new slave girl, Yidu. In Hedeby, Earl Kalf announces that he and Lagertha will share the Earldom, to the dislike of Einar. Kalf invites Einar and his men to vote to exile Lagertha, then turns on them, killing the dissidents and allowing Lagertha to kill Einar. In Paris, Rollo is living as a Frankish noble. He marries Princess Gisla, who weeps through the ceremony and holds a knife to his throat on their wedding night. Rollo rides to the Viking encampment outside Paris, and orders their massacre.
No. of episode
Title
Original air date
6
"The Message"
December 27, 2017
Floki and the settlers prepare for their voyage but are betrayed to Lagertha, who is angry but lets them sail. On reaching the new land, the settlers discover that it is not as fertile as Floki had told them. Margrethe is vexed with Lagertha's poor leadership; the Queen threatens to enslave her again if she continues to plot against her. In England, the Saxons have retreated; Alfred swears at Ecbert's grave to pursue the former King's vision of uniting the country. After collapsing during Mass, Alfred recovers and decides to make a pilgrimage to Lindisfarne. Ivar returns to meet Harald, and makes an alliance with him; they plan to attack Kattegat in two months' time. Ivar threatens and persuades Heahmund to fight with them. Astrid betrays Harald by bribing Hakon, a fisherman, to warn Lagertha. She is blackmailed and raped by the crew, spied by a young boy. Hakon delivers the warning. Meanwhile, in Africa, Bjorn manages to escape during the sandstorm. With Halfdan and Sindric, he sails back to Kattegat.
No. of episode
Title
Original air date
7
"Full Moon"
January 3, 2018
Alfred reaches Lindisfarne, in search of the memory of his father, and hears his voice as he prays. Floki and the settlers begin creating a settlement near hot springs in their new land. Floki proposes a co-operative, democratic approach, but Eyvind does not trust him and accuses Floki of wanting to be King. Astrid tells Harald that she is pregnant, while Ivar and Heahmund discuss their plan of attack. Bjorn returns to Kattegat, where Lagertha has allied with King Svase of the Sami. Bjorn rejects Torvi and proposes to marry Snaefrid, Svase's daughter. Lagertha and her allies discuss how to respond to Ivar's attack, and decide to meet him in battle on land, assuming that he will not attack the town from the sea. Margrethe continues to urge Ubbe to betray Lagertha, so that when she is defeated, he can become King.
No. of episode
Title
Original air date
8
"The Joke"
January 10, 2018
Alfred returns from Lindisfarne, and argues that the Saxons must build a navy as the only way to stop further Viking incursions. In the new land, Floki proposes building a temple to Thor, but is opposed by Eyvind who warns that they all will starve come winter. Meanwhile, the armies of Lagertha, Bjorn and Ubbe, and of Harald, Ivar and Hvitserk, meet above Kattegat. Lagertha proposes peace talks, but Harald, then Ivar, reject a settlement. Before battle, Ivar takes Astrid and a third of their army towards shore, to protect their fleet. Hvitserk and his group try to flank, but are ambushed in the forest by the Sami. Battle begins, and Bjorn and Lagertha gain the upper hand, as Harald's forces are outflanked. Ivar hears the fighting, but says it is too late to help. Heahmund is wounded, and Harald retreats. Lagertha refuses to kill Heahmund and orders that his life be saved.
No. of episode
Title
Original air date
9
"A Simple Story"
January 17, 2018
In the aftermath of the battle, Heahmund recovers, makes advances and pledges loyalty to Lagertha. Hvitserk secures reinforcements from Rollo, on condition that Bjorn's life is spared. Bjorn seeks peace with Ivar and Harald, but is rejected; Ivar moves to have him killed but is stopped by Harald. Ubbe, regretting marrying Margrethe, seeks solace with Torvi and the two have an affair. In Wessex, Aethelwulf dies and Judith persuades Aethelred to reject the throne and instead propose to the Witan that Alfred become king. In Floki's colony, Thor's temple is completed, but set afire and destroyed. Thorgrim, Kjetill's son, accuses Bul, Eyvind's son, of the arson. In the ensuing struggle, Thorgrim stabs Bul to death.
No. of episode
Title
Original air date
10
"Moments of Vision"
January 24, 2018
In Floki's colony, Floki urges Eyvind to not seek revenge for Bul's death, offering to make him lawgiver, in exchange for not starting a blood feud. When Thorgrim is found dead, Floki proposes that he himself be sacrificed to the gods. In Kattegat, Margrethe meets the Seer and reveals her ambitions to become queen. The Seer calls her mad and predicts that she will never be queen of Kattegat. The army of Lagertha faces those of Ivar and Harald. As they do battle, Hvitserk remembers Ivar accusing him of regret for his defection. Hvitserk faces Ubbe on the battlefield, but Ubbe is unable to hurt his brother. Hvitserk kills Guthrum, while Svase and Snaefrid are killed by Harald's warriors. Astrid finds Lagertha and asks her to kill her, fearing her pregnancy. Lagertha reluctantly complies. Harald kills his brother Halfdan. As Ivar orders the Frankish reserves onto the field, Lagertha and Bjorn retreat. As Bjorn prepares to leave Kattegat, he finds Lagertha broken with her hair turned white. Across the fjord, Rollo arrives.
No. of episode
Title
Original air date
11
"The Revelation"
November 28, 2018
Ivar enters Kattegat and declares himself its new king. Ivar and Hvitserk celebrate their victory; Harald is mourning Astrid and haunted by his murder of Halfdan. Rollo arrives and Ivar tells him that Lagertha, Bjorn and Ubbe have vanished. Rollo guesses that they are hiding in the same hut he had sought shelter in decades earlier. Rollo urges Lagertha and Bjorn to return with him to Frankia, revealing himself as Bjorn's biological father. Bjorn rejects both Rollo's offer and Rollo as his father. Ivar finds the hut, but Lagertha and her followers have already left, leaving a crazed Margrethe behind. They steal a boat and sail for England. Meanwhile, in Iceland the settlers vote on whether to sacrifice Floki; Eyvind's son Helgi gives the deciding vote against. In Wessex, king Alfred proposes having church services in English instead of Latin, alienating the church. Judith suggests that Alfred must marry and produce an heir to secure his position. Lagertha arrives in Wessex and is soon captured by Aethelred.
No. of episode
Title
Original air date
12
"Murder Most Foul"
December 5, 2018
At Heahmund's suggestion, Lagertha, Bjorn and Ubbe are to be allowed to settle in East Anglia in return for fighting against other viking incursions. Heahmund is informed that his bishopric has been given to Cuthred, due to Heahmund being assumed dead. In Kattegat, Ivar is engaged to Freydis. When his impotence prevents him from having sex with her, Freydis consumes Ivar's blood, claiming this will make her conceive, but she then secretly has sex with Ivar's slave. In the colony, Frodi blames Eyvind's son Asbjorn for Thorgrim's death, while Floki tells Aud of his fear that his visions were due to insanity. In Wessex, Alfred implores Ubbe to convert to Christianity. Meanwhile, Alfred ignores his intended bride Ealhswith, who starts an affair with Bjorn. Ivar has a disturbing dream involving Margrethe, and then has her killed. Cuthred's spies discover Lagertha and Heahmund's affair. When Cuthred confronts him and threatens to tell Alfred, Heahmund murders Cuthred.
No. of episode
Title
Original air date
13
"A New God"
December 13, 2018
Ubbe and Torvi agree to Alfred's demand for their conversion, but this alienates Bjorn. Bjorn is approached by and bonds with Magnus, who seeks vengeance against Alfred. Alfred and Aethelred clash over whether to punish Heahmund for Cuthred's murder. Alfred chooses to leave judgement of Heahmund to God, to the dismay of his nobles. Heahmund spreads the story that Aethelred might be leader of a conspiracy against Alfred. Harald leaves Kattegat for York to prepare a raid on Wessex. He manipulates Ivar's governor Olavsonn into supporting him in his future plan to invade Kattegat. In Iceland, Floki manages to unite the feuding families over the expected child of Helgi and Thorunn, a daughter of Kjetill. However, soon afterwards Thorunn vanishes. In Kattegat Hvitserk is furious about Margrethe's murder. Ivar, fuelled by Freydis's promises and flattery, declares himself a god and tells Hvitserk that he intends to perform a great sacrifice.
No. of episode
Title
Original air date
14
"The Lost Moment"
December 19, 2018
Ivar has a shield-maiden he claims to be Lagertha sacrificed, as Hvitserk becomes increasingly conflicted. As Ivar executes rebels, Hvitserk consults the Seer who offers fearful visions of the future. In Iceland, Floki is visited by a vision of Thorunn who reveals her murder by Helgi's brother, Asbjorn. Floki exiles Eyvind and his family from the colony. In England, Ubbe trains Alfred in preparation for Harald's raid. Magnus suggests to Bjorn, Ubbe and Lagertha that they should join Harald. Ubbe and Lagertha do not believe Magnus's claim about being Ragnar's son. As Harald's army approaches Wessex, Harald becomes attracted to Olavsonn's wife Gunnhild. Aethelred is instructed by the conspiring nobles to assassinate Alfred, but when the moment comes, finds himself unable to perform the deed. Ivar eventually visits the Seer, asking him to confirm his divinity. When the Seer does not comply, Ivar murders him.
No. of episode
Title
Original air date
15
"Hell"
December 26, 2018
Ivar has his men covertly cremate the Seer's body, while publicly promising to bring the people responsible to justice. In England, Heahmund has a vision of hell that drives him to renounce Lagertha, who accuses Heahmund of never having loved her. Alfred has Lord Cyneheard arrested for treason and Judith tortures him for information about the conspiracy. Harald's army arrives in Wessex. Ubbe goes to treat with Harald, offering a large sum of money for him to leave. Later Magnus arrives to join Harald, inadvertedly alerting him that Ubbe and Alfred have set a trap. Harald's army, cut off by a fire started by Ubbe, charges the English. The English take the upperhand, killing jarl Olavsonn. The vikings are driven back, but not before Gunnhild kills a wounded Heahmund and injures Bjorn, before being taken captive. In the chaos Lagertha vanishes. As Alfred celebrates his victory, Judith informs him that Aethelred is leader of the conspiracy.
No. of episode
Title
Original air date
16
"The Buddha"
January 2, 2019
Alfred tells Judith that he has forgiven Aethelred. She confronts Aethelred, who says that loyalty to Alfred prevented him from leading the conspiracy. News reaches Ivar of Harald's defeat, and Ivar plans his own invasion of Wessex. Meanwhile, Alfred grants the Norsemen East Anglia; Bjorn is unhappy about Ubbe and Torvi's conversion to Christianity. With Gunnhild he travels north to make a deal with Harald, after Gunnhild reveals his plan to attack Kattegat. Hvitserk meets a merchant and becomes interested in Buddhism. Helgi returns to the settlement with frostbite and news that Eyvind is sick and remorseful. Kjetill decides to lead a rescue expedition. In York, Bjorn is welcomed by Harald and Magnus, but when Harald realises Bjorn and Gunnhild are in a relationship he is unhappy. Alfred becomes sick and bedridden, as Judith's paranoia about Aethelred escalates. She poisons him to death.
No. of episode
Title
Original air date
17
"The Most Terrible Thing"
January 9, 2019
Aethelred is buried as Alfred regains his health. Judith reveals that she had poisoned him to death; Alfred is furious but Judith maintains that doing terrible things is necessary to stay in power. Hearing that a large fleet of Danes is approaching Wessex, Ubbe convinces the king to make him leader of his army. In York, Harald makes the same deal with Bjorn that he had with Ivar: when Bjorn dies, Kattegat will be Harald's. Harald approaches Gunnhild in private and admits his feelings; Gunnhild implies she will marry Harald when he is king of Norway. In Kattegat, Ivar grows anxious about Hvitserk, and forces him to go on a diplomatic mission to his ally Olaf the Stout. In Iceland, the rescue party finds Eyvind and his family in a terrible state. While Floki is held at knifepoint, Kjetill and Frodi massacre them. Floki begs for Helgi's life, but Kjetill decapitates the latter and places his head on a spike. When the group returns home, Floki recounts the bloodbath, and Aud throws herself into Gullfoss.
No. of episode
Title
Original air date
18
"Baldur"
January 16, 2019
King Olaf asks Hvitserk about Ivar's rule; Hvitserk declares his brother a tyrant and asks Olaf to help overthrow him. An amused Olaf instead has Hvitserk tortured. Nevertheless, Hvitserk refuses to change his mind about Ivar. Impressed, Olaf decides to support him. In Kattegat, Ivar orders Thora's arrest and accuses her of fomenting hatred toward him; she contends that in Ragnar's time, all were free. Ivar lets her leave, but she is soon taken by his soldiers and burned alive, along with other rebels. Freydis gives birth to Ivar's "son" Baldur. The child is deformed and Ivar puts him out in the wood, not wanting him to have a life like his. In England, Judith seeks treatment from a witch for a tumor. In the witch's hut, Judith finds a feral Lagertha, whom she takes back to the royal villa. Ubbe talks with the leaders of "the black danes", kings Hemming, Angantyr and Frodo, offering them settlement in East Anglia. When Frodo refuses, Ubbe challenges him to single combat. In Iceland, Floki buries Aud and leaves the colony to confront the gods in the wilderness. He eventually finds a cave that he believes is the Helgrind, and enters it.
No. of episode
Title
Original air date
19
"What Happens in the Cave"
January 23, 2019
In England, King Alfred's mother, Judith, dies from cancer. Ubbe fights King Frodo and wins, but is badly injured. As he is about to die, Ubbe calls Odin for help. Because of Ubbe, the war is prevented and Kings Hemming and Angantyr settle in East Anglia with their people. Meanwhile, Lagertha is recalling what happened to her after the battle. She remembers that the witch cut her hair and told her she would then be a new person. Ubbe and Lagertha leave England for Kattegat. In Kattegat, Freydis confronts Ivar about her missing son and he strikes her. Bjorn, king Harald and their army sail through a storm to reach Norway. Harald is frustrated by Bjorn's behaviour and a deadly confrontation is only prevented by Gunnhild. While marching toward Kattegat with King Olaf and his army, Hvitserk is reunited with Bjorn. Ivar changes his plans and decides to stay in Kattegat to confront his brothers. In the cave Floki finally finds a cross planted in the ground. He begins to laugh as the volcano erupts and injures him.
No. of episode
Title
Original air date
20
"Ragnarok"
January 30, 2019
The combined armies attack the walls of Kattegat from two directions. However, the defenses are too strong and they are forced back. Magnus is killed by Ivar's captain White Hair. Bjorn appeals to the citizens and says that Ivar is their enemy. At night while Ivar celebrates his victory, Freydis sneaks out to the attackers' camp. She exposes Ivar's murder of Baldur and Thora and a hidden door. A second assault begins and most of the defenders give no resistance, leaving Ivar's housecarls outnumbered and defeated. Harald is seriously wounded while saving Bjorn's life. Freydis reveals her betrayal to Ivar, who strangles her. When Bjorn and Hvitserk enter the hall, Ivar has vanished. Bjorn is declared king by Olaf and a returning Lagertha. Bjorn has a vision of the Seer, who tells him that the war is not over. In the hills, Ivar and his remaining followers travel east.